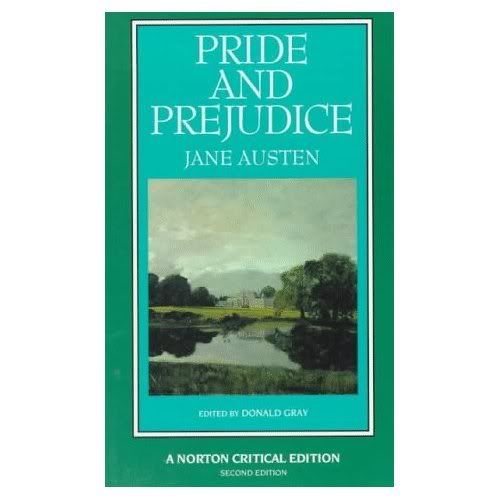 Having read most of the Austen novels between the ages of 14 and 18 and a couple of them again in my early twenties, I decided to begin reading them once again in 2005 just before the new Pride and Prejudice film adaptation released. And I've read several of them every year since. The most recent of which was Mansfield Park. So, the question most JA fans discuss amongst themselves is which of her novels is their favorite.
This is hard for me. I suppose P&P was always my favorite growing up, but now I find Persuasion to be a fav read. Yet P&P is probably her most popular. Why do you think that is?
To begin with, it's the characters—especially Elizabeth and Darcy. A couple years ago, I took a fiction writing class where we had to choose three literary characters and tell what we liked about them. I used Elizabeth Bennett as one of my choices. And to give reason for my choice, I used a quote from the book. She was described as having a "lively, playful disposition." I love these kind of playful, free thinking, independent characters and I find myself writing my characters in the same way. Jane Austen loved her Elizabeth character, as well, when she wrote, "I think her as delightful a creature as ever appeared in print, and how I shall be able to tolerate those who do not like her at least I do not know." She needn't have worried. Elizabeth Bennett is now considered one of the most beloved heroines in all of literature. Elizabeth was unusual for a Georgian period character because she was interested in more than just getting a husband. She was a woman way before her time.
Darcy also is a likeable character; although, he may not appear to be so much at the beginning. Just like Elizabeth, we the reader have to take the time to get to know Darcy and peel back his layers before we too can fall in love with him. There is a complexity about him. It must be true because so many people have so many different takes on his character. If he were simpler, we would have all come to the same conclusions on him. Some see him as proud, aloof, and a snob. I see much more in Darcy. There's a lot of smoldering passion there. I love reading this book more than watching the movies because you get a whole lot more of what Darcy is feeling and struggling with in the text. This is especially true throughout the chapters when he and Elizabeth are guests at the Bingley home of Netherfield. He is constantly struggling and convincing himself to give up this nonsense, but this is when he falls in love. He's wonderful!!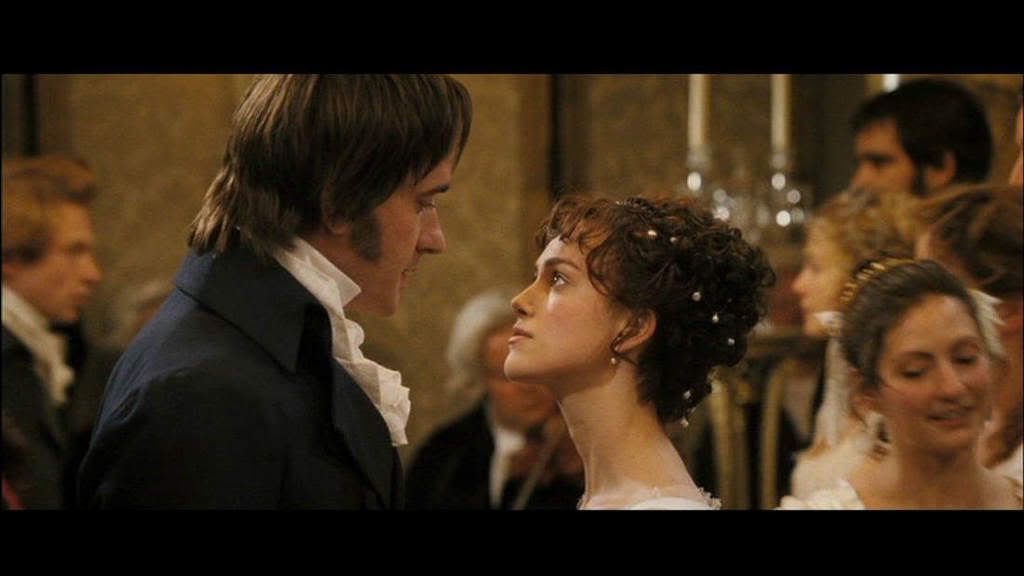 But those aren't the only well-crafted characters in the book. The secondaries really bring this tale to life. Mrs. Bennet, Jane, Bingley, Wickham, Caroline Bingley, on and on. I think this is the reason so many of the recent Jane Austen spin-off novels have failed. They weren't able to capture the essence of these characters. A few talented authors have pulled it off and those are the ones I will read, but it really is hard emulating a master at the craft.
Other than the characters, the best part of this book is the love story. The interaction between Elizabeth and Darcy (the spark) is terrific. JA plotted a tale of two characters who seem to dislike each other upon first meeting but eventually come to the conclusion that they are made for each other. Austen is good for a whole lot more than a simple love story, but you must admit she can spin a great romance. And I have always been more moved in that respect with this book than most others.
If you've read Austen, do you have a favorite novel? Please share.